COMMISIONS
I AM HAPPY TO CONSIDER ANY COMMISSIONS
PLEASE EMAIL ME OR CALL ME WITH REQUESTS FOR A COMMISSION. I WILL BE HAPPY TO DISCUSS SIZE, COST AND CONTENT.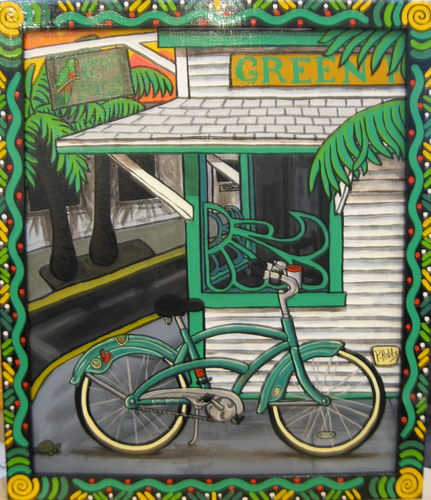 FOR HER NEW HUSBAND JOELLE HAD ME PAINT HIS BIKE AT HIS FAVORITE WATERING HOLE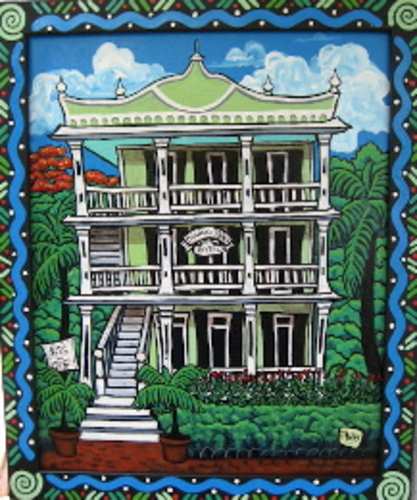 GARY AND HIS WIFE WERE MARRIED AT THE ISLAND CITY HOUSE 15 YEARS AGO AND HE HAS GIVEN THIS TO HER FOR THEIR ANNIVERSARY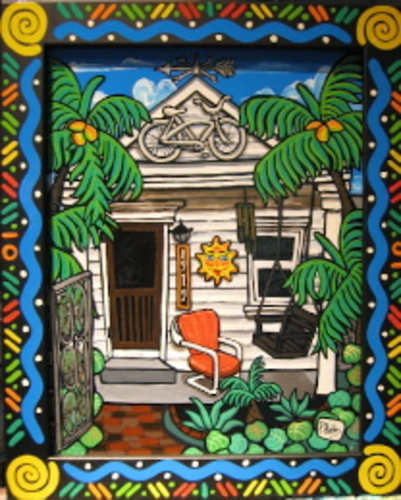 THE NUNANS JUST BOUGHT A HOUSE IN KEY WEST AND TO CELEBRATE THEIR 10TH ANNIVERSARY HE SURPRISED HIS WIFE WITH THIS PAINTING. NOTICE THE TEN IN THE LOWER RIGHT PALM TREE. HAPPY ANNIVERSARY!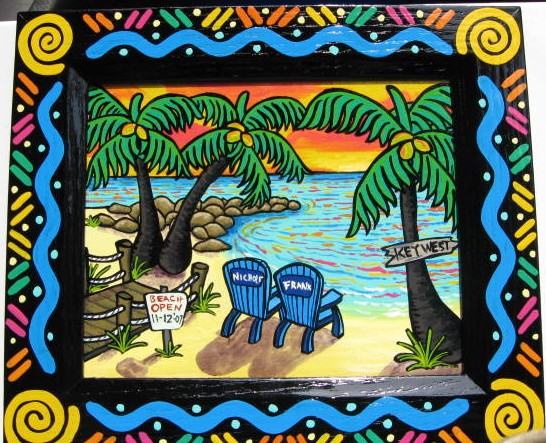 NICHOLE EMAILED ME WITH AN IDEA FOR HER FIRST ANNIVERSARY. SHE GOT MARRIED ON SMATHERS BEACH AND WANTED A PAINTING TO GIVE TO HER HUSBAND. WE DECIDED ON SUNSET AND ADDED THE DATE AND THEIR NAMES TO MAKE IT MORE SPECIAL. SHE BROUGHT HIM INTO THE GALLERY AND HE DISCOVERED IT ON THE WALL, HE WAS VERY SURPRISED IT WAS A HAPPY MOMENT.

TOM ASKED ME TO PAINT A PAINTING FOR HIM. HIS ONLY WANTS WERE IT WAS TO HAVE A SUN AND SUNFLOWERS. HE WAS PLEASED WITH THAT AND REQUESTED ONE WITH A MOON AND MOONFLOWERS.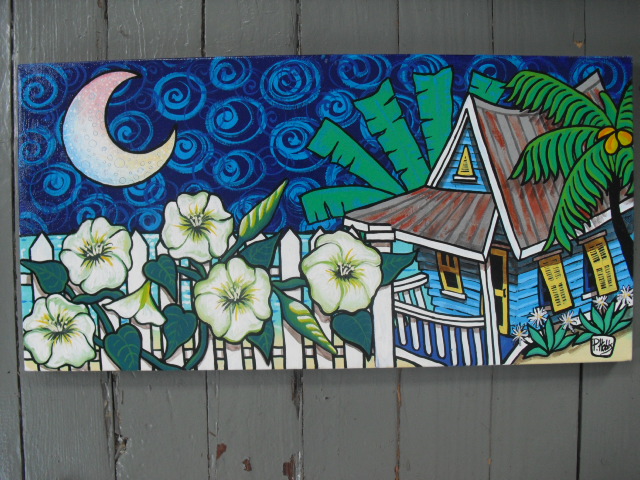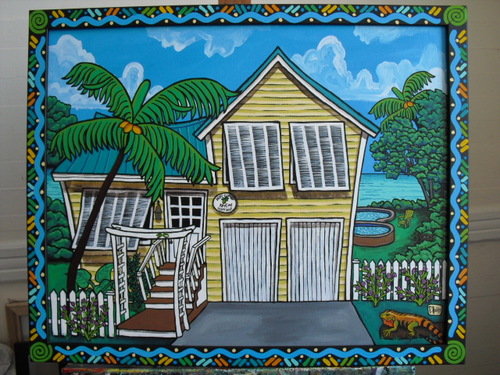 MARIA AND JANET EMAILED ME AND ASKED IF I WOULD PAINT THEIR CUTE LITTLE KEY LIME KOTTAGE ON GRASSY KEY. I INCLUDED THE RESIDENT IGUANA AND GREEN LIZARD. THEY ARE DISPLAYING IT ON THE DINING ROOM WALL. THANKS MARIA AND JANET!